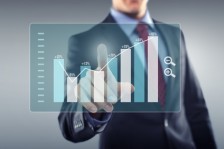 Touch options are becoming incresingly popular thanks to very attractive yields that are much higher compared to high/low options. The profit range is between 70 and 500%. There's a great feature offered by brokers like 24Option called "High Yield Touch". This way you can distance the price that has to be touched from the current price, making it less likely that it will be touched and thus giving you better profits like 500%. If you trade with standard touch options profits are "only" between 70% and 85%.
Here's a screenshot for a standard touch option:
Let's take a look at the following chart: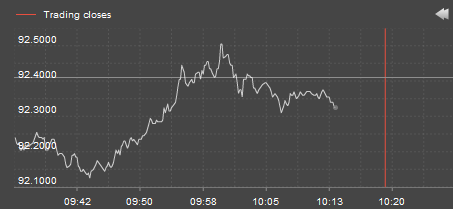 You can see that there's a grey line above the current price. This displays the price that needs to be touched. When this is the case and you bought a "Call-Touch-Option" you will get a payout of 72%. As you can see, the grey bar is not very far away from the current price and this makes it pretty likely that this price will be touched. When you trade with high-yield touch options you will see that the grey bar is farer away from the current price, making it less likely to touch. So it's all about probabilities – the less likely it is that a price will be touched, the higher the profit. 72% profit doesn't sound good compared to 360% but keep in mind that it's also very unlikely unless you have some solid analyses telling you that the price will fall or climb significantly.
But there are some more information on this chart. There's a red vertical line that tells us when the option with current setups will close. In this case it's 10:14 and you have time until 10:20 to decide. The option will expire on 10:30 so the asset has at least 10 minutes time to touch the price.
Trading with touch options
(High) Yield Touch Options are not the best trading tool for most traders as they don't end in the money that frequently making trading even more risky. Although the yield of 500% sounds very lucrative it's also very hard to finish in the money. What you definitely need before trading with any touch option is a very volatile market. You need a lot of swings and ups and downs. You should only trade with high yield touch options when you're very confident that there's a huge breakout. For example when there's a news report everybody is waiting for. Nobody knows how it'll look like. The only thing you know is that it will affect the asset significantly. In this case you can even buy a call and a put option. Of course, only one of these options can finish in the money but it's possible that one of these will touch a high yield price bringing you 500% in profits. It's obvious that you have to be extremely confident that there'll be a breakout in one direction, otherwise both options will finish out of the money.
Weekend touch trading
Another huge advantage with trading touch options is that they can be purchased during the weekends for some of the highest profits available in any trading. This can be up to 500% for some of the highest paying paying binary options brokers. Touch trading is has therfore become one of the most sought-after features to be offered by binary options brokers and the additional ability for traders to analyse and enter positions during the weekend makes them additionally attractive. Not only does this benefit experienced traders, or those who actively trade during market hours, but they are also a very important feature for those who work during the week and want to trade financial markets but have limited access as a result.
Touch trading with technical analysis
Traders use a combination of analytical techniques to decide if they believe price will or will not touch a given price level during the following 5 days trading. This may be based on pure speculation or a fundamental news release which can cause volatility in the markets and therefore increase the prospects of the touch trade being successful. Ultimately, those who perhaps have the most knowledgable insight in to the potential for a significant market movement in the coming days may be those who use technical analysis. This form of analysis uses popular chart patterns and indicators to give traders an idea of the potential for future market movements and can a be a very useful trading tool for those who want to touch trade profitably.