Trading Platform – How to trade
The 100% web-based platform is provided by SpotOption, a platform that does not require much introduction, especially among the avid binary options traders. The easy to navigate and user-friendly interface has been further customized by the mechanical masterminds in the GOptions technical department. Adding features and benefits that are not found on all standard SpotOption platforms.
The platform is also available on any iOS or Android compatible handset, for those traders that are constantly on the GO. Easy access for checking in on your open trades and/ or executing new trades as news breaks is the availability of the platforms exact replica just on your phone.
Types of Trades
The software has been customized to bring traders a variety of trading options. Most of the standard options are available. However, the options extend to Forex trading (new feature), Ladder Options, Spot Follow, One-Touch, Pairs and Turbo trading.
Durations
The option to trade either long term or very short periods are a possibility that is left to the traders to decide. The very first broker to introduce the 30-second trade to the industry and they also offer the 60, 120 and 300-second options. On the other hand, there are options that can stay open for hours, days even months. The category of turbo trading which is 30 t0 120 seconds should be reserved for the experienced trader.
Minimum Trade
Traders of any skill level and financial capacity can take part in a superior trading experience with this broker. The minimum trade is $5.00, and the maximum trade amount is $10,000.00. Making this one of the platforms that are specifically geared towards accepting any trader.
GOptions Screenshots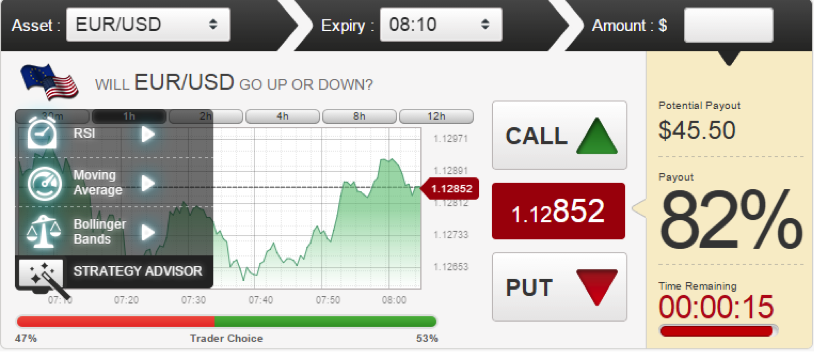 Assets at GOptions
GOptions is at the forefront on this subject. They offer one of the widest asset portfolios in the industry. Which extends to over 220 in asset selection of which include over 19 Stocks, 13 Currency Pairs, 7 Commodities and 19 Indices. The most traded assets can be found here:
Currency Pairs: EUR/USD, EUR/JPY, USD/JPY, GBP/USD and USD/CHF
Indices: All widely held indices like DAX, CAC, Dow Jones Index, SMI and much more
Stocks: The option to trade on all of the most prominent public companies that have a status of market capitalization are available. The broker offers stocks in Google, Facebook, Amazon, Apple, etc. However, this is not limited to US stocks but they extend the choice to European stocks such as Deutsche Telecom, Vodafone, Volkswagen and more.
Commodities: All traders can access the one of the largest selections of commodities available of which include Gold, Silver, Platinum, Crude Oil, etc.
Payouts
Boasting some of the highest payouts in the industry of 70 – 90%, GOptions does put their money where their mouth is. On all the main currency pairs, one can earn a 90% payout (the more liquid the asset, the higher the payout will be). For assets that are let's say traded on the Turbo features the payout would be slightly less, however, the time that the profit is made up for the smaller payout.
All payout percentages are predefined, and you will know exactly what you stand to gain (or loose) before you trade. Have a look on each asset what the payout is as it ever changes as the broker adds to the asset portfolio.
Deposit, Withdraw and Minimum Deposit
The easy, reliability and the security of GOptions banking and platform are of utmost importance to the trader. They take special measures such as SSL encryption software to ensure there is no access to a third party.
Banking is done seamlessly either via credit / debit card, wire transfer, Skrill, Neteller or web money. The minimum deposit is a mere $200.00 making this accessible to anyone who wishes to venture into binary options.
Another point worth mentioning is that they guarantee same day withdrawals via the same way you deposited initially. I'm sure not many brokers can assure that kind of service.
Customer support
Priding themselves of their customer support that is available 24 hours a day six days a week, the team are reachable via live chat, telephone, Skype, and email. All the support staff are made up of ex-forex traders and come with a wealth of experience as well as service is available in mother tongue English, Russian, Arabic, German, and Greek.
GOptions Bonus
The bonus offers are, and amounts are corresponding to the account type that is opened, they are best suited to the account type and trader. The bonus in not limited to the first deposit as the broker feels further remuneration is necessary, to reward the loyalty of return traders. Here is a summary of each account and bonus that traders are eligible for:
Micro Account
$200.00 to $499.00
25% bonus
Mini Account
$500.00 to $999.00
35% bonus
Standard Account
$1,000.00 to $4,999.00
50% bonus
Gold Account
VIP Platinum Account
$10,000.00 to $250,000.00
100% bonus
Bottom Line
This broker is an all-rounder, catering to the most novice of trader as well as the advanced binary trader, this is your one stop! With platform features that are unsurpassed, customer service that is incomparable by any other broker, it is no surprise that they were awarded "The Best Broker" in 2014.
Pros
A customer comes first!
Same day withdrawals
Minimum deposit of only $200.00+ 25% bonus
Superior platform and service features
Accepts US traders
VIP program
High Payout
Mobile App
They do not have Italian on offer at the moment
Cons
They do not have Italian on offer at the moment
No reason not to sign up at GOptions!
Click here to start trading now! >>